Evolve > Mindfulness >10 Quotes About Relationships That Will Make You Feel Good
Relationships are a beautiful thing. Be it with your best friend, your partner, your parents or colleagues, every relationship you share with another person is special. You care for people, you love them and they are an integral part of your life.

When things get rough or fights come in the way, it's good to remember the good times and good sides of a relationship in order to feel better.

Here are 10 quotes about relationships to help you feel good!

1. "The most beautiful discovery true friends make is that they can grow separately without growing apart."– Elisabeth Foley
2. "Life is partly what we make it, and partly what it is made by the friends we choose." – Tennessee Williams
3. "Compromise, communication and consistency are needed in all relationships, not just romantic ones" – Anonymous
4. "A true relationship is two imperfect people refusing to give up on each other." – Anonymous
5. "The meeting of two personalities is like the contact of two chemical substances: if there is any reaction, both are transformed."– Carl Jung
6. "A single rose can be my garden…a single friend, my world." – Leo Buscaglia
7. "Friendship is born at that moment when one person says to another, 'What! You too? I thought I was the only one.'"– C.S. Lewis
8. "Friendship is the only cement that will ever hold the world together."– Woodrow T. Wilson
9. "Let us be grateful to the people who make us happy; they are the charming gardeners who make our souls blossom."– Marcel Proust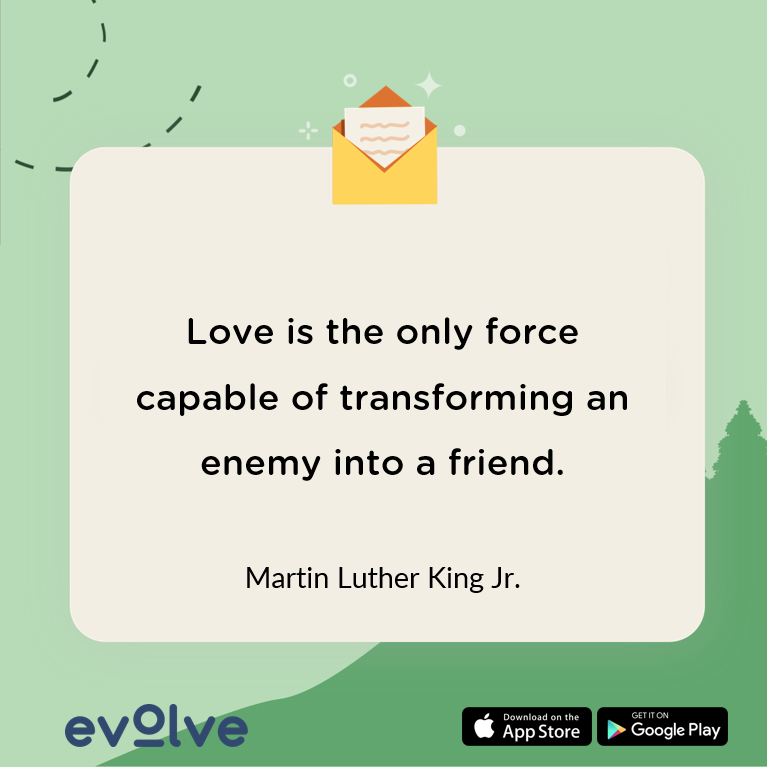 10. "Love is the only force capable of transforming an enemy into a friend." – Martin Luther King, Jr.
If you're in need of motivation and positivity, feel free to read more of our quotes right here.

Evolve has a range of guided audios that help you incorporate mindfulness into your daily life and reduce stress and anxiety! The Evolve app is now live globally on Android & Apple, click here to try for free!