Our subconscious mind's desires manifest in our dreams. Everybody has dreams. Hope and a high level of excitement are produced by dreams. It will ultimately ensure that you maintain a high level of attention to achieve your goals in both your professional and personal lives.
Your path to realising your lofty goals is paved with numerous challenges, and it may seem difficult to maintain your desire.
These dream quotes will therefore inspire you and prevent you from giving up on your aspirations.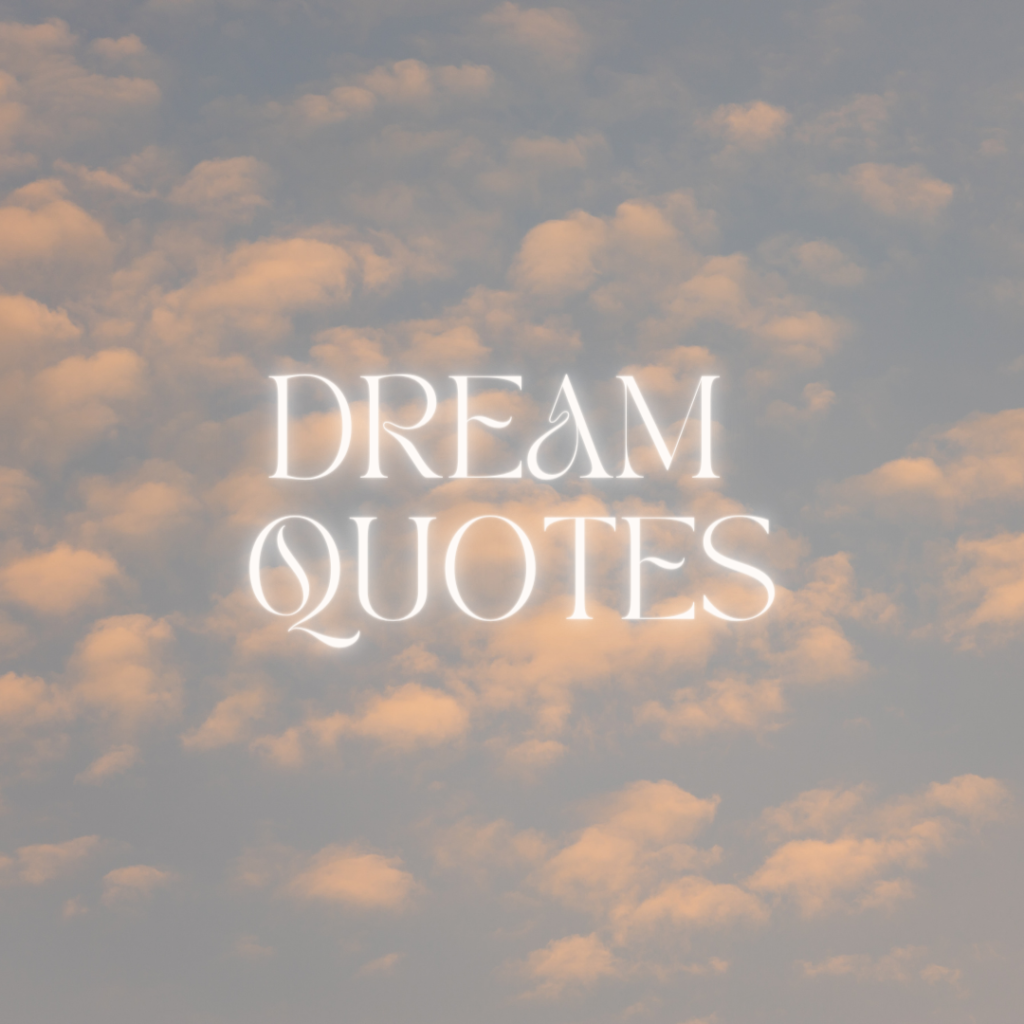 Dream Quotes
Following are some dream quotes:
"If you can dream it, you can do it."
"Dreams are extremely important. You can't do it unless you imagine it."
"When you have a dream that you can't let go of, trust your instincts and pursue it. But remember: Real dreams take work, they take patience, and sometimes they require you to dig down very deep. Be sure you're willing to do that."
"When you cease to dream, you cease to live."
"Aim for the moon. If you miss, you may hit a star."
"A dream doesn't become reality through magic; it take sweat, determination, and hard work."
"Dreams are today's answers to tomorrow's questions."
"The only thing that stands between you and your dream is the will to try and the belief that it is actually possible."
"Dreams are not what you see in sleep, it is the thing which doesn't let you sleep."
"Dream big, work hard."
"Dreams make things happen, nothing is impossible as long as you believe."
"The only courage anybody ever needs is the courage to follow your own dreams."
"Dreams are necessary to life."
"A dream is a wish your heart makes."
"Living the dream is simply a form of living out your passion, of making that passion gradually, through persistence and effort, a central part of your life."
"Man is a genius when he is dreaming."
"All men of action are dreamers."
"Dreams must be heeded and accepted. For a great many of them come true."
"The more closely you get in touch with your dreams, the more able you are to make them real. The more vividly you consider how you want your world to be, the more real and effective tools you will have for making it so."
"It is not true that people stop pursuing dreams because they grow old, they grow old because they stop pursuing dreams."
"So many of our dreams at first seem impossible, then they seem improbable, and then, when we summon the will, they soon become inevitable."
"Nurturing and Living your dream is the most thrilling adventure of life."
"A man is not old until regrets take the place of dreams."
"A dreamer is one who can only find his way by moonlight, and his punishment is that he sees the dawn before the rest of the world."
"Dreams are the touchstones of our character."
"Be a dreamer. If you don't know how to dream, you're dead."
"Dreams are the seedlings of realities."
"Anyone who dreams of an uncommon life eventually discovers that there is no choice but to seek an uncommon approach to living it."
"If you give up on your dreams, what's left?"
"A dream you dream alone is only a dream. A dream you dream together is reality."
"Nothing happens unless first a dream."
"Your vision will become clear only when you look into your heart. Who looks outside, dreams. Who looks inside, awakens."
"A single dream is more powerful than a thousand realities."
"I like dreams of the future better than the history of the past."
"Logic will get you from A to B. Imagination will take you everywhere."
"The best way to make your dreams come true is to wake up."
Evolve has a range of guided audios that help you proactively manage stress, reduce anxiety and make mindfulness light and joyful, so you can be balanced anytime! The Evolve app is now live globally on Android & Apple, click here to try it for free!